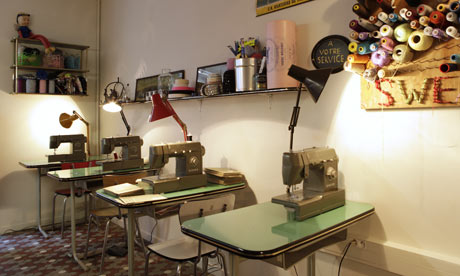 I think I need to move to Paris. I've been slowly growing obsessed with the place (
Just check out my other artsy-site for the proof
) but now I see even more that they have people opening places that pull at my heartstrings of amazingness.
Welcome to
Sweat Shop, Paris's only sewing cafe
Basically it operates like an internet cafe, where you can rent a machine on an hourly rate while sipping your cafe creme and tucking into a lovely buttery croissant. Plus, they have classes and workshops which I'm sure are a great place to find inspiration and friends of the same crafty persuasion. Classes even include a "couture class" for learning to perfect technique. Hello. I definitely need that. Or let's be honest, even just a beginners class.
I love their ethos too:
"Welcome to a world of creativity, a place of discovery, of DIY ethics, a piping hot cup of tea and funky furniture. Enjoy organic delicacies courtesy of our New York neighbors at Bob's Juice Bar. Enter into a serene atmosphere where work and relaxation go hand in hand."
Sustainability annnnd fun: "Bored of buying, wearing, throwing away? Fix that seam, make a dress out of those trousers or even design and create a brand new silhouette."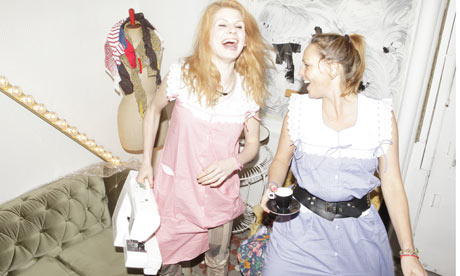 Thanks to Angela Scanlon & the Guardian for passing on this link!
http://www.guardian.co.uk/lifeandstyle/2010/apr/18/sewing-cafe-paris